Anton Johansson
Anton as a speaker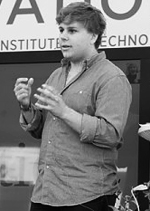 Something I'm very passionate about is public speaking. To inspire, educate and to be an eye-opener is probably the most amazing thing I do in my professional life. By telling (funny) stories, sharing my energy and by giving interesting examples I can change peoples attitude and motivation.
I'm often hired as a speaker and is widely recognized as an expert on all things digital. I give talks in a wide range of topics but mainly about trends, entrepreneurship, social media, ecommerce and technical shifts. Besides speaking, I'm also
moderating conferences and workshops.
A selection of topics:
Ecommerce trends
How to sell online
PR for startups
Contact me for enquiries, bookings or more info.